An Opportunity for Medium-sized Businesses
While digital sales channels have dramatically changed many consumer goods markets in recent years, the chemical industry is still largely shaped by traditional sales methods. Yet, the signs are on the wall: chemicals sales are on the verge of digital change. It is now crucial for medium-sized chemical companies to be open to this development, to actively shape it and, thus, to use the opportunities associated with digitalization for efficiency, growth and customer loyalty. Otherwise, there is a risk of being overtaken by faster, more flexible, and more agile competitors.
What is driving the digital transformation?
Four factors will drive this change in particular: The technical requirements, i.e. the digital infrastructure, such as marketplaces and online shops, are in place. They have been extensively tested in the consumer goods sector and can be easily transferred to the industrial sector. Second, the demographic development will significantly accelerate the acceptance of digital technologies. The generation of digital natives grew up being used to digitalization in private life, and all surveys show, that consequently the desire for additional options to interact in business is also growing substantially. Third, external disruptors are driving digital transformation. On the one hand, competitors from outside the industry, such as Alibaba or Amazon Business, should be mentioned here. But the corona pandemic has also given digitalization an enormous boost. And, finally, the so-called digital immigrants play a decisive role. This refers to those companies that recognized the opportunities and possibilities associated with digital offerings at an early stage and that are already active on the market with eCommerce solutions in addition to their established sales channels.
How does the digital transformation succeed?
Digitalization will not vanish in a bottom drawer. Hence, looking away is not an option! The future winners will be those companies that incorporate digital models quickly and well planned into their sales strategy. So, what does it take to successfully implement digitalization in your chemical sales?
First, a clearly defined sales strategy, including the role of the online business in this, is crucial. Opening-up an online channel without a well-considered plan is merely actionism and will usually lead to confusion. It is therefore important to define the sales strategy in its entirety, covering all sales channels. Second, the question of the suitable online model – starting with the fundamental decision marketplace and / or own online store – must be decided. Next, analogue and digital sales channels must be integrated in such a way that the customer is offered a smooth "customer journey" and a positive shopping experience across all channels, and that internal frictions and coordination problems are avoided.
In order to use the new technologies successfully, the development of digital skills in the company and the creation of a network of external partners (keyword "digital ecosystem") are essential. An innovation-friendly, open corporate culture promotes creativity and creates the necessary freedom to exploit the opportunities for growth, better customer insight, intensified customer interaction and customized offers, alongside margin optimization and cost efficiency.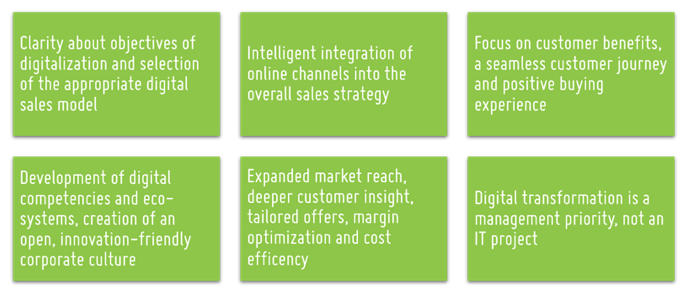 Communicate progress regularly and openly along the way. Take the sales team with you on this digital journey. Because they are, and will remain, an essential part of the future sales strategy. The successful integration of existing sales channels with the new, complementary, digital channels depends to a large extent on their commitment.
Challenge and opportunity for medium-sized companies
These foreseeable changes are a challenge, especially for medium-sized companies with their often longstanding, close customer relationships, specialized markets and well proven sales processes. But it will be their particular strengths, such as innovative power, total customer focus, flexibility and intimate knowledge of their markets, that will help them to cope with the digital transformation – and as a result to consolidate and expand their market position through the smooth coordination of analogue and digital offers.
The opportunities are huge. Digital sales models not only offer your customers the opportunity to contact you in various ways. They offer medium-sized companies, which normally do not have the financial and organizational resources of large companies, the opportunity to further accelerate their growth, especially in international markets, and to forge even closer relationships with their customers.
All of this makes it clear that the digitization of sales in the chemical industry goes far beyond a pure IT project. It is a technical, organizational and cultural transformation, a task for all areas of the company, but specifically for the top management!
Our experts would be pleased to support you along this path.
Rainer Oertel
January 2021